Should I Repower?
At AB Marine we are experts at repowering existing Inboard systems. However the point at which you will need to consider repowering cannot be determined based on the number of operational hours alone. An engine's life span is often subject to how regularly and consistently you run your system.
You should consider repowering if:
Your existing engine is becoming increasingly unreliable
You are losing horsepower
The engine is consuming too much fuel
Maintenance costs and downtime are rising
Get in Touch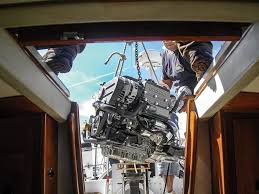 The Benefits of Repowering
AB Marine are Yanmar experts and understand the new technology that a new, technologically advanced YANMAR engine will bring and instantly breathe new life into your boat.
With the right system, you will benefit from:
Improved acceleration, power, and responsiveness
Lower running costs and increased uptime
Enhanced fuel efficiency and lower environmental impact
Upgrade to the latest electronics, controls, and diagnostics with interconnectivity to modern multi-function displays
An overall smoother, quieter, and more pleasurable boating experience
Get in Touch